Simple paella recipe with Baxters potted shrimp
admin
There are literally thousands of recipes out there for this Spanish classic and there is even an annual paella cooking championship. The classic combination of rice, seafood, chicken and other ingredients including herbs and spices makes it one of the most incredible one-pot meals out there. Here at Baxters we are always looking for a new opportunity to let our shrimps improve a classic recipe, so we've made this wonderful paella that you can cook at home.
Far from the complex and often top secret recipes that Spanish chefs guard with their lives this recipe is a nice simple paella recipe that is perfect for an easy mid-week meal.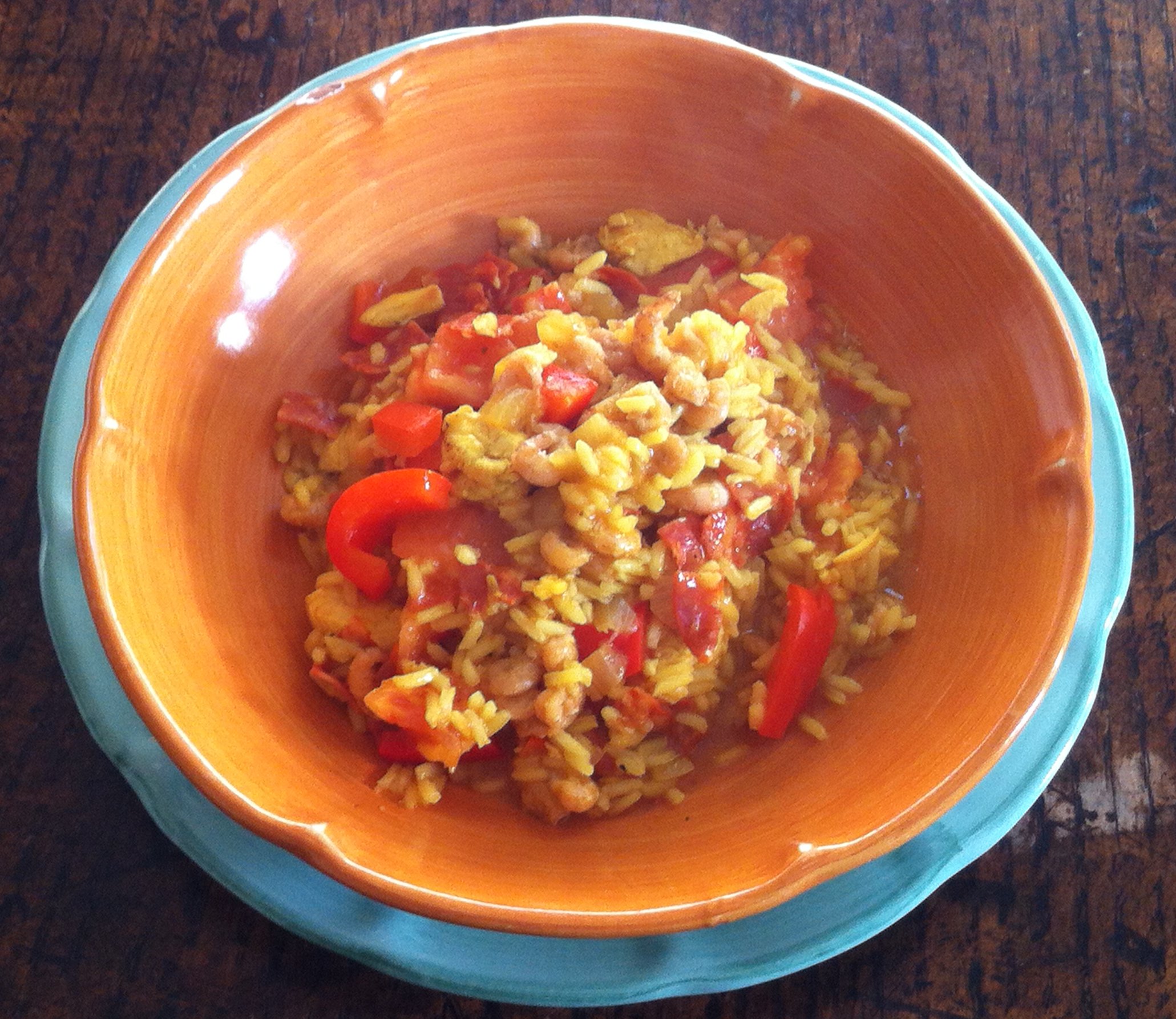 Serves 2
To serve more simply adjust the ingredients to accommodate, and don't forget we have larger 200g tubs of our famous potted shrimps available!
Ingredients
400g chicken mini fillets (chopped into 2cm chunks)
4 tbsp olive oil
1 large onion, finely chopped
1 garlic clove, crushed
1 tsp ground turmeric
100g chorizo sausage, peeled
225g long grain rice
600ml chicken stock
4 tomatoes, skinned, seeded and chopped
1 red pepper, seeded and sliced
115g frozen peas
salt and black pepper
100g tub of Baxters potted shrimps (warmed slightly to soften the butter)
Preparation
Heat the oil in a large non-stick pan and brown the chicken on both sides. Add the onion and garlic, and stir in the turmeric. Cook for 2 minutes.
Slice the chorizo and add to the pan with the rice and stock. Bring to the boil and season to taste, then cover and continue to cook on a medium heat for 15 minutes.
Add the chopped tomatoes, sliced red pepper, shrimps and frozen peas, cook for a further 10 minutes or until the chicken is tender and the rice has absorbed the stock.
Presentation
Not a lot of presentation involved with this one, just place it in a large serving bowl with a ladle and let everyone dig in.
What to drink with it
If you are looking for the perfect wine to have with paella then worry not as it is an incredibly flexible dish that can be eaten with white, red or even rosé wine. Personally we recommend a crisp white such as a Chardonnay or a Pinot Grigio that can really cut through the rich flavours of this dish.
The flexibility of this dish mean it is perfect for all occasions, whether it's an easy weekend lunch or a dinner party it is always sure to impress. If you are feeling a little adventurous and love a bit of spice then a chopped red chilli added with the onion and garlic is sure to give it a little extra kick.